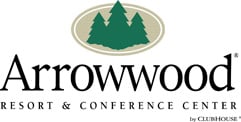 Arrowwood Lodge is a haven of fun in central Minnesota. The vacation center in Baxter consists of an indoor water park, Baxter's Bar and Grill, and guest rooms so large they're referred to as cabins.

When the lodge's general manager, Carolyn Bare, was searching for On Hold Marketing, she first called another provider. But, after listening to the custom demo that the other company created for her, Carolyn was not satisfied.

When that other provider realized that Carolyn was looking for something even more unique than what they could deliver, they suggested that she contact BusinessVoice, our caller experience marketing agency.
Within a week, our BusinessVoice Creative Consultants, voice talent and Recording Engineers were working on a Humor On Hold production for Arrowwood Lodge.

They created an award-winning OHM production that's reminiscent of channel surfing on an older TV set. Listen to the fun production below.
"This production absolutely fulfilled what we were looking for. We asked for something original, and you went above and beyond. It was something that we had not heard before. We gave you free reign to do something unusual and fun, and you hit the nail on the head! The team that we have is great to work with and very attentive."
Carolyn Bare, General Manager
Arrowwood Lodge