Mountain View Tire and Auto Service (MVT) is a tire retailer and automotive service company with 30 locations in Southern California.
The family-run business sells 17 tire brands and provides comprehensive automotive service from ASE-certified technicians. Since the company was founded in 1987, Mountain View leadership has emphasized delivering "the WOW experience" - service so good that customers walk away saying, "WOW! That was great!"
Our relationship with MVT began in 2005 with an On Hold Marketing program. We started their email marketing program a few years later, then took over their website and digital marketing. We've created videos, radio campaigns and in-store graphics for Mountain View along the way, and even provided consultation when they re-branded their building exteriors. Now we're their marketing agency of record.
"I want to compliment you on giving us a best-in-class tire industry website."
Chris Mitsos, Vice President
Mountain View Tire and Auto Service
Our work for MVT includes the services of our MadAve Marketing Management team, which has been involved in the following:

Completed up-front research of the target demographics in the markets Mountain View Tire serves, including keyword research and in-depth discovery
Designed, developed and built a new website
Implemented a website marketing program which includes content marketing, online public relations, local search optimization, email marketing and social media management
Developed and built a custom Tire Selector application
Produced a series of videos for the website and other online channels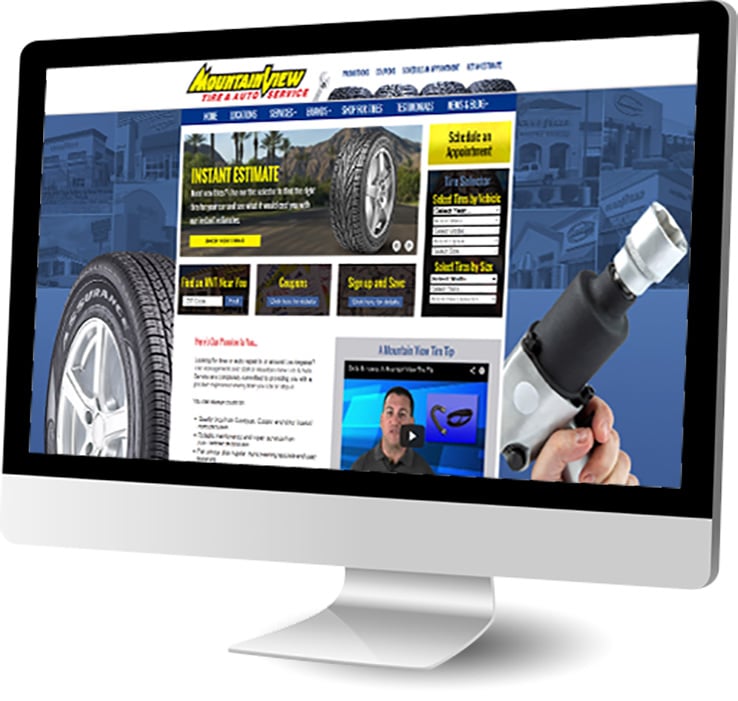 The goals we tracked:
Increase relevant traffic, online requests for appointments and estimates, as well as phone calls to web-exclusive numbers
Strengthen the company's brand as a source of exceptional customer service
Position the website as a resource for tire and automotive service-related information
Develop a user-friendly interface that allows visitors to search for tires online
In 2011, we were instrumental in helping MVT earn the coveted title of Modern Tire Dealer Magazine's Tire Dealer of the Year. In 2015, our efforts helped the company win a spot as a top-three finalist in Tire Review Magazine's Top Shop competition.
We remain committed to helping Mountain View Tire and Auto Service bring their brand of personalized service to their growing base of customers.